BOSTON (AP) — Red Sox ace Chris Sale and manager Alex Cora both made early exits in Boston's 7-2 loss to Houston in Game 1 of AL Championship Series on Saturday night.
Sale lasted just four innings, giving up two runs, one hit, four walks and a hit batter.
Cora wasn't far behind the lanky left-hander going back to the clubhouse. The rookie manager was ejected in the bottom of the fifth inning with the game tied 2-2 after arguing a called third strike on Andrew Benintendi that ended Boston's first rally of the game.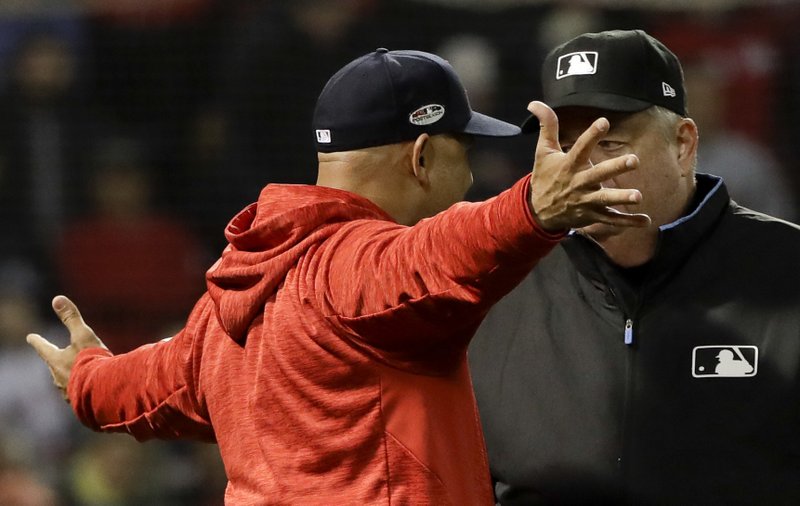 Sale opened the game with an eight-pitch walk to George Springer and struggled through the first three innings with subpar stuff and location.
"I just went out there and lost it for a little bit," Sale said.
Houston took advantage in the second. Sale got two quick outs, but then walked Carlos Correa, plunked Martin Maldonado on the hand with a fastball and walked Josh Reddick. Springer followed with a hard grounder past the glove of third baseman Eduardo Nunez for a go-ahead, two-run single. An error by Nunez led to the Astros' tiebreaking run for a 3-2 lead in the sixth.
Sale decided to go sleeveless despite a 48-degree temperature at first pitch, and it took too long for his fastball to heat up. His velocity has been a focus since a shoulder issue landed him on the disabled list in August. He returned in September but averaged just 90 mph in his final regular-season tuneup, well below his standard.
He jumped back up to about 95 mph in two effective outings against the Yankees in the Division Series, but was sitting a relatively sluggish 90-93 mph on Saturday.
His control was shaky, too, even as he perhaps took something off his fastball and slider after falling behind in counts. He threw one pitch behind Alex Bregman, and all four of his walks came in the first two innings.
Sale had just two swings and misses among 69 pitches in the first three innings before finding a groove with four among 17 pitches in the fourth. Cora then pulled Sale, who struck out Correa and Maldonado to end his outing, raising his strikeouts total to five.
The 29-year-old allowed five hits and two earned runs, striking out nine over 6 1/3 innings in his ALDS Game 1 win over Yankees. He also came on in relief with a perfect eighth inning during Game 4.
Saturday night's start harkened back to the rough outing he had in his postseason debut in Game 1 of last season's Division Series against Houston. Sale gave up seven earned runs in five innings, yielding a pair of home runs to Jose Altuve and another to Bregman in a loss.
Sale came on in a relief appearance in Game 4 of that series, as well, holding the Astros scoreless through four innings before allowing two runs in Boston's season-ending Game 4 loss.
Cora stuck around long enough to pull Sale and use Mitch Moreland as a pinch hitter in the fifth, then was tossed while protecting Benintendi.
There were two outs, two on and two runs already in when Justin Verlander threw a 98 mph fastball to Benintendi near the outside edge of the zone for strike three. Benintendi slammed his helmet and bat down and pleaded his case with plate umpire James Hoye before Red Sox coaches ran to get between them.
Cora continued to yell from the dugout and was tossed by Hoye. Cora gave the lineup card to bench coach Ron Roenicke and walked down the tunnel into the clubhouse.
"Andrew didn't agree. I didn't agree," Cora said of the strike call. "It's a big pitch right there. It's ball four, bases loaded. … Most likely Verlander comes out of the game."
Instead, Houston took a 3-2 lead in the sixth and it remained that way until the ninth, when Brandon Workman gave up two homers and four runs while getting one out. Cora didn't want to use closer Craig Kimbrel with Boston trailing.
"A couple of calls went against us," right fielder Mookie Betts said. "But I think we have to dial it back and just understand that they not perfect. … We're missing some good pitches."
___
Follow Kyle Hightower on Twitter.
___