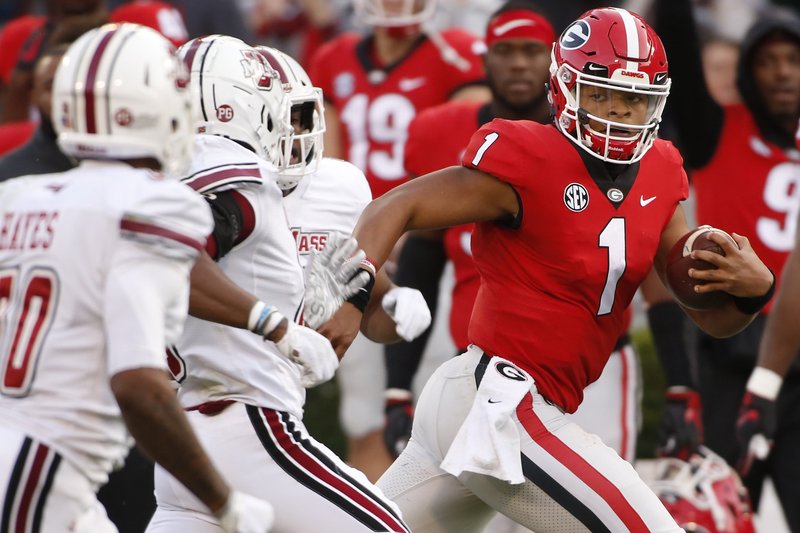 ATHENS, Ga. (AP) — Georgia's playmakers feasted as if lined up at an all-you-can-eat buffet.
No worries. There was plenty of offense for everyone.
Freshman Justin Fields threw two scoring passes and ran for another touchdown, Tyler Simmons had rushing and receiving scores, and No. 5 Georgia protected its playoff hopes by overwhelming UMass 66-27 on Saturday in one of the biggest offensive games in school history.
Another freshman, James Cook ran for 76 yards on only three carries, including his first two career scoring runs, from 26 and 27 yards.
"Everybody gets equal opportunity," Simmons said.
Georgia gained 701 yards, the second-highest total in school history, including 426 yards on the ground. The Bulldogs never punted.
Coach Kirby Smart said the Bulldogs "overpowered a team that's smaller than us."
Fields led the Bulldogs with 100 yards rushing, including a career-long run of 47 yards and a 3-yard scoring run. He completed 5 of 8 passes for 121 yards and two touchdowns, making another step in shedding his reputation as a run-first quarterback.
"I'm glad Justin got a chance to show he can do more than run," said tailback Elijah Holyfield, who ran for 50 yards and had a 5-yard scoring run.
Georgia (10-1) leaned on its quick-strike offense on six scoring drives lasting no more than four plays. Starter Jake Fromm and Fields shared time at quarterback as the Bulldogs avoided looking ahead to next week's state rivalry game against Georgia Tech or the Dec. 1 Southeastern Conference championship game against No. 1 Alabama.
The Bulldogs led UMass (4-8) 42-13 at halftime.
"They're fast and they're big and the smallest mistake they will capitalize on and take advantage of it," said UMass linebacker Bryton Barr.
Highlights for the Minutemen were Andy Isabella's second-half touchdown catches of 75 and 45 yards from Ross Comis. Isabella, one of the nation's leading receivers, capped his career with 15 catches for 219 yards and two touchdowns.
"I know the score got a little out of hand, but we went out there and kept fighting," Isabella said.
Isabella set school records with 102 catches for 1,698 yards this season.
Georgia scored touchdowns on seven of its first eight possessions. The one exception was Terry Godwin's lost fumble attempting to field a punt in the first quarter. Joseph Norwood recovered at the Georgia 16 to set up the lone touchdown of the half for the Minutemen, a 5-yard run by Marquis Young.
Finally, with 9:58 remaining in the third quarter, the Georgia offense was stopped short of the end zone when Rodrigo Blankenship kicked a 40-yard field goal.
Otherwise, it was a productive half for Fields, Simmons and the Bulldogs. Simmons' 49-yard run around right end capped Georgia's three-play touchdown drive to open the game. Simmons added a 71-yard scoring catch from Jake Fromm early in the second quarter.
Fromm was 5-for-5 passing for 106 yards and a touchdown.
Third-string quarterback Matthew Downing took over for Georgia to open the fourth quarter.
Comis completed 23 of 31 passes for 278 yards with two touchdowns and one interception.
THE TAKEAWAY
UMass: Isabella, a semifinalist to win the Biletnikoff Award given to the nation's top receiver, left a strong impression on the Bulldogs. Even when matched against Georgia's top cover cornerback, Deandre Baker, Isabella was difficult to defend. The UMass defense also struggled in a 55-21 loss at Boston College on Sept. 1 in its only other test against a Power Five team.
Georgia: Fields continued to emerge in a more prominent role for Georgia. Known more for his running earlier this season, Fields showed impressive touch on deep passes, including his 57-yarder for a touchdown caught in stride by Mecole Hardman . "He's getting better with his vision down the field," said Smart of Fields, who also threw an 11-yard scoring pass to Riley Ridley.
BIG OFFENSE
Georgia's 701 yards trailed only its 713 yards against Florida Atlantic in 2012 on school records. The 66 points set a high mark since a 66-0 win over Troy in 2014. The 426 yards rushing are the sixth-most in school history and the most since 454 against Vanderbilt in 1987.
PREGAME INJURY
Linebacker Monty Rice did not play and finally came on the sideline midway through the first quarter on crutches, wearing a boot on his left foot. Smart said Rice was hurt while "planting and driving" during pregame warmups, and he said the severity of the injury was not known.
Georgia was without offensive linemen Kendall Baker (left knee) and Cade Mays (shoulder). Mays had started the last six games at right guard.
POLL IMPLICATIONS
Favored by 41 points, Georgia delivered the lopsided win needed to likely protect its No. 5 spot in the Top 25.
WELCOME BACK
Former Georgia tailbacks Nick Chubb, now with the Cleveland Browns, and Sony Michel, now with the New England Patriots, attended the game and earned ovations when featured during first-quarter timeouts. Chubb and Michel finished second and third, respectively, on Georgia's career yards rushing, behind Herschel Walker.
UP NEXT
UMass: The Minutemen open their 2019 season at Rutgers on Aug. 31.
Georgia: The Bulldogs close their regular season at home with their annual state rivalry game against Georgia Tech on Saturday.
___