BLACKSBURG, Va. (AP) — Tobias Oliver's first career start at quarterback went better than even he could have expected.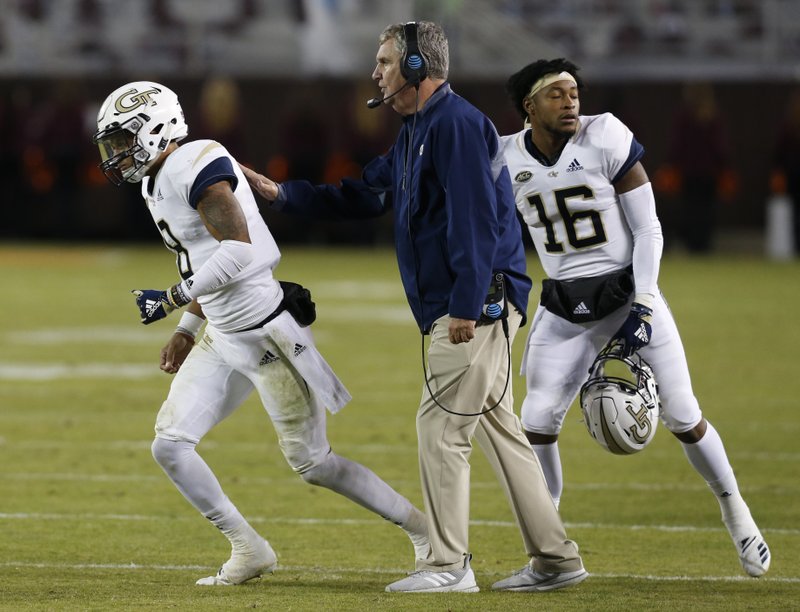 Georgia Tech's backup ran for 215 yards and three touchdowns and the Yellow Jackets ran all over Virginia Tech for a 49-28 victory on Thursday night.
"I'm a little banged up but I feel pretty good," Oliver said after carrying the ball 40 times. "Tomorrow morning I'll feel it."
The Yellow Jackets (4-4, 2-3 ACC), playing without starter TaQuon Marshall, finished with 465 yards — all on the ground. Jordan Mason also scored three times as Georgia Tech won its third straight against the Hokies and third straight in Lane Stadium — without completing a pass.
There was no need to throw.
"He played his tail off," coach Paul Johnson said of Oliver. "He practiced all week. TaQuon was cleared to play, but he only got a couple of days of practice."
Virginia Tech (4-3, 3-1), which led 21-14, faded after its defense forced a punt in the second quarter and Sean Savoy muffed it, setting the Yellow Jackets up for a tying 12-yard touchdown drive.
"That was huge," said Jalen Johnson, who recovered the fumble. "The offense was rolling and we got the ball back."
Hokies coach Justin Fuente said the play wasn't the only issue, but it was a big one.
"It certainly was a big play, no question, but I don't feel it was the only play," he said.
Defensive coordinator Bud Foster's team gave up its most rushing yards since SMU got 500 in 1973.
"They did a great job blocking us. It's not just our front four. It's our front seven, our linebackers. They manhandled us tonight when it's all said and done."
Georgia Tech scored the next 35 points and became the third team to score at least 45 against Virginia Tech this season. Old Dominion (49) and Notre Dame (45) are the others. Virginia Tech hadn't given up at least 45 points to three teams since 1973 when Houston (54), Alabama (77) and Memphis (49) all did it.
Virginia Tech talked all week of keeping the Yellow Jackets from dominating the time of possession.
The Hokies' first drive lasted 1:34, ending with Ryan Willis' 46-yard pass to Tre Turner, and their second took 58 seconds, ending with Damon Hazleton's 41-yard catch.
In between, the Yellow Jackets went 75 yards in 12 plays and followed Virginia Tech's second TD with an 11-play, 75-yard march to tie it at 14. Oliver kept the first drive alive with a 15-yard scramble, and Qua Searcy gained nine on a fourth-and-1 from the Yellow Jackets' 34 on the second drive.
The loss also cost the Hokies their grip on first place in the Coastal Division as they dropped into a tie with Virginia for the lead.
BALL CONTROL
The Yellow Jackets had a 20:34 to 9:26 time of possession advantage in the first half and an overwhelming 42:18-17:42 edge for the game. Virginia Tech gained 323 yards but Fuente said "the valve shut off" after three crisp drives to start the game.
"They got good Georgia Tech," Johnson said. "This year it's been good Georgia Tech and bad Georgia Tech."
THE TAKEAWAYS
Georgia Tech: Oliver (7 yards per carry coming in vs. Marshall's 4.7) routinely spun away from contact to gain additional yards against the Hokies. But Marshall connected on 60- and 80-yard scoring throws to beat Virginia Tech last season, and Oliver's lone attempt — just his 10th of the season — was miserably short of his target, leading to their first punt, which proved the turning point.
Virginia Tech: The Hokies' young defense again got burned by a backup quarterback. In a 49-35 loss at Old Dominion early in the season, drop-back passer Blake LaRussa replaced dual-threat Steven Williams and threw for 494 yards and four touchdowns for the previously winless Monarchs. Marshall had started all seven games heading into the game, but sat out Thursday night with an undisclosed "upper body" injury.
UP NEXT
The Yellow Jackets are back on the road, playing at North Carolina next Saturday.
Virginia Tech continues a stretch of four home games in its last five, hosting Boston College next Saturday.
___
Follow Hank on Twitter: www.twitter.com/hankkurzjr
___
More AP college football: https://apnews.com/tag/Collegefootball and https://twitter.com/AP_Top25