Monday, August 6, 2018
ESPN.com

Is Deandre Ayton the savior the Suns brass need him to be? Can Marvin Bagley III double-double his way to Rookie of the Year contention in Sacramento? Will Dallas' Luka Doncic prove to be the best rook of the bunch given his modern-day fit as a 6-8 playmaker?
We asked our ESPN Forecast panelists to rank their top choices for the 2018-19 NBA Rookie of the Year.
Here are the results: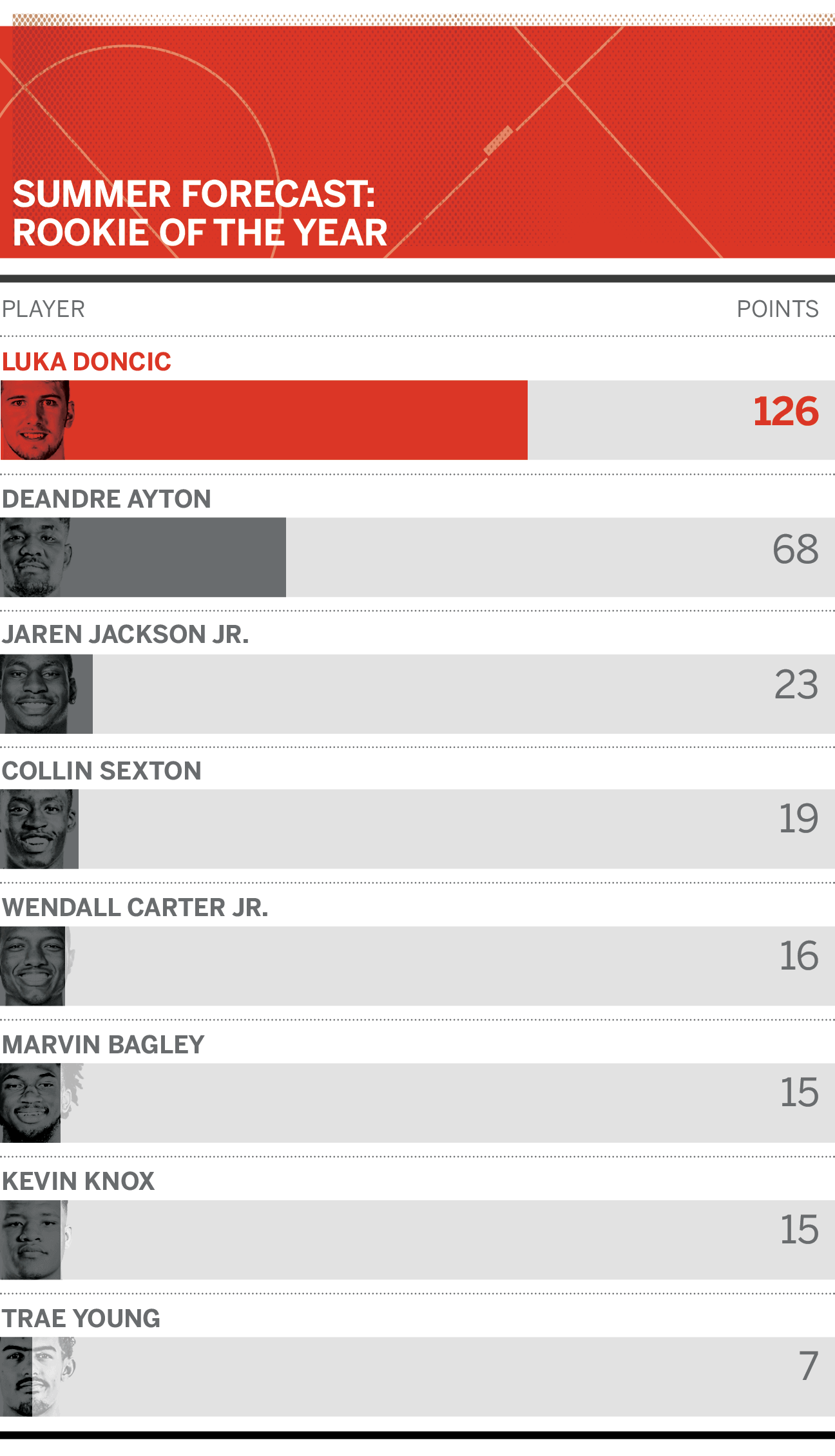 1. Luka Doncic | G | Mavericks
First-place votes: 58 percent
Total points: 126
Watch scouting video
Our panel's ROY frontrunner is the most NBA-ready prospect in the 2018 class with a roster suited to his strengths.
Doncic is an efficient stat-sheet stuffer who could eventually see more on-ball reps than incumbent Dallas point guard Dennis Smith Jr., lofting lobs to DeAndre Jordan and darting crosscourt dimes to Wes Matthews and Harrison Barnes. Though he's just 19, he should get opportunities — the Mavs gave up their protected 2019 first-round pick to move up two spots and draft the Slovenian star. — Mike Schmitz
---
2. Deandre Ayton | C | Suns
First-place votes: 24 percent
Total points: 68
Watch scouting video
Ayton can register 20 and 10 in the box score by virtue of his Zeus-like frame and tremendous agility. On a Suns team that lacks interior presence, Ayton is poised to play as many minutes as any other rookie in his class.
He will provide instant value on the glass, and with Devin Booker as his likely pick-and-roll partner, Ayton can pop to midrange or dive into deep seals, finishing with strength and touch around the rim. — Schmitz
---
First-place votes: 6 percent
Total points: 23
Watch scouting video
While a unique long-term prospect, Jackson might not get the scoring opportunities to compete for ROY, at least as long as the Grizzlies try to remain competitive.
As he showed at summer league, Jackson can protect the rim, switch on D and shoot the 3 ball, but he is green offensively and foul prone on defense. Many scouts believe Jackson will end up as the best big man to come out of the 2018 draft, but it might take some time. — Schmitz
---
First-place votes: 3 percent
Total points: 19
Watch scouting video
Sexton will benefit from veteran floor spacers Kevin Love and Kyle Korver opening up driving lanes, along with George Hill, who can play on or off the ball.
With LeBron James in L.A., Sexton figures to have the touches needed to compete for the award, and he showed glimpses of his scoring ability in Vegas with his aggressive play and downhill penetration. But given his sometimes-shaky jumper and decision-making, expect some inefficiency and turnover-heavy nights to go along with some big games. — Schmitz
---
First-place votes: 3 percent
Total points: 16
Watch scouting video
Carter shined at summer league, spacing the floor, scoring on the block, facilitating, rebounding and even switching screens with great success thanks to his improved conditioning. Carter will have to leapfrog Robin Lopez in the starting lineup and get enough looks alongside scorers Lauri Markkanen, Zach LaVine, and Jabari Parker to compete for ROY, but he showed at Duke that he doesn't need much volume to be effective.
He won't lead this rookie class in points per game, but Carter checks virtually every statistical box and is more ready to contribute than some of his big-man counterparts. — Schmitz
---
T-6. Marvin Bagley | F/C | Kings
First-place votes: 3 percent
Total points: 15
Watch scouting video
With our panel's voting likely influenced by Bagley's pedestrian summer league performance, he should still be considered a ROY candidate. Bagley is an instinctual, aggressive scorer who rebounds the ball at a high level and doesn't need a lot of plays called for him to get his points.
Sacramento teammate Harry Giles could also have a breakout rookie season, but the Kings aren't exactly loaded up front, so they're sure to give the No. 2 overall pick plenty of opportunities. — Schmitz
---
First-place votes: 3 percent
Total points: 15
Watch scouting video
With his versatile scoring attack, Knox has a legitimate chance to win the award. Knox was used exclusively as a small forward with little spacing at Kentucky, yet he's capable of much more as a small-ball 4 surrounded by shooting on an NBA floor.
Typically, scoring means more in the ROY race than impact on winning. Knox will be only 19 this season, so he might not be very efficient, but his opportunity and scoring instincts should help him shine. — Schmitz
---
First-place votes: 0 percent
Total points: 7
Watch scouting video
Young is a candidate to take home ROY honors because of his skill and expected opportunity to play for a Hawks team that isn't in a hurry to win games. Though Clippers rookie Shai Gilgeous-Alexander might be a better long-term prospect, Young's logo-distance range and stellar passing should make for some monster performances, regardless of his defense amd efficiency as a rookie point guard. — Schmitz
Also receiving votes: Mikal Bridges, Suns (3 points); Harry Giles, Kings (3 points); Shai Gilgeous-Alexander, Clippers (1 point); Lonnie Walker, Spurs (1 point).
---